Modern farms, including the three owned by the Hall Hunter Partnership, rely on a range of modern farm technologies. From growing methods and storing produce, to software needed to run the farms as a thriving business, new and innovative farm technology is always being explored. Learn about the kinds of farm technology used at Tuesley, Heathlands, and Sheeplands Farm and why it's so important.
Farm Technology for Growing Produce
At Hall Hunter, our growing systems are designed to deliver superior yields and fruit quality, while providing easier and quicker picking systems for our workers.
Strawberries
All of our strawberries are grown using table-top systems, which makes harvesting a far easier task for our pickers. They are planted in coir substrate beneath polythene tunnels, in order to decrease waste, protect them from pests and diseases, and improve the quality of the fruit.
Blueberries
Our blueberries are also grown in coir substrate beneath polythene tunnels. The blueberries go through an optic grader before being packed. This piece of modern farm technology is designed to help ensure that only the finest quality berries are packed for shipping.
Raspberries and Blackberries
The raspberries and blackberries grown on Hall Hunter farms are also grown in pots using coir substrate, and under polythene tunnels to protect them and allow them to thrive.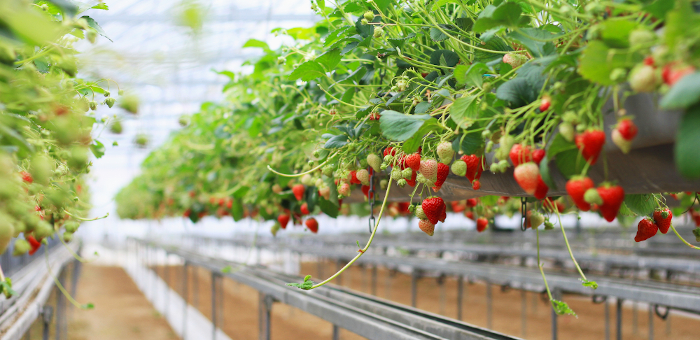 Fertigation and Climate Control
We also use vital farm technology to maximise quality and yield in the form of fertigation and climate control. This allows us to decrease the amount of water and chemicals used throughout the growing process. With the latest technology we monitor:
Air temperature
Humidity
Substrate moisture
Electro-conductivity
This means we can create the optimum fertigation and venting strategy for each fruit variety.
Modern Farm Technology for Packing and Shipping Produce
In order to make sure our quality berries safely reach our customers, we use various innovative technologies.
Optic graders
After our blueberries are picked, they are put through machines known as optic graders, which are used to assess their size and quality. The equipment works by running blueberries through multiple motorised tables which have holes in them, so that any undersized berries are removed.
Temperature-controlled vehicles
We ship our berries in temperature-controlled trucks to keep our fruit fresher for longer This ensures that the cool chain of our fruit is maintained from the time our berries leave their Hall Hunter packhouse to the retail customer's depot.
Farm Technology for Business Procedures
Most modern farms require innovative technology in order to be viable businesses. At Hall Hunter, we have developed our own Business Intelligence (BI) software to help achieve this.
Our software provides live data across all elements of the business, from farming and packing to transport and sales information. It's a key strategic reporting and visualisation tool within Hall Hunter, driving insight across all core functions within the business.
The BI software improves the efficiency of a range of tasks including:
Budget planning
Payroll and other administration
Audit control
Transparency of unitary cost and price compositions
Trend monitoring and forecasting
This information has enabled us to make data-driven decisions within the business, which have actually reversed operational annual overspends. Previously, historic overspend was on field labour, such as our harvest picking and husbandry. By analysing the data with BI, we have been able to cut these costs while still managing to improve the seasonal workers' wages.
Different kinds of farm technology are required by horticultural businesses like ours in order to prosper. We take pride in making the most of the latest equipment available to us, so that we can enhance all our processes. By doing this we can achieve our ultimate goals of making the work simpler for our employees, and supplying delicious top-quality berries to our customers. Discover more about our processes at Hall Hunter, and exactly what we do.