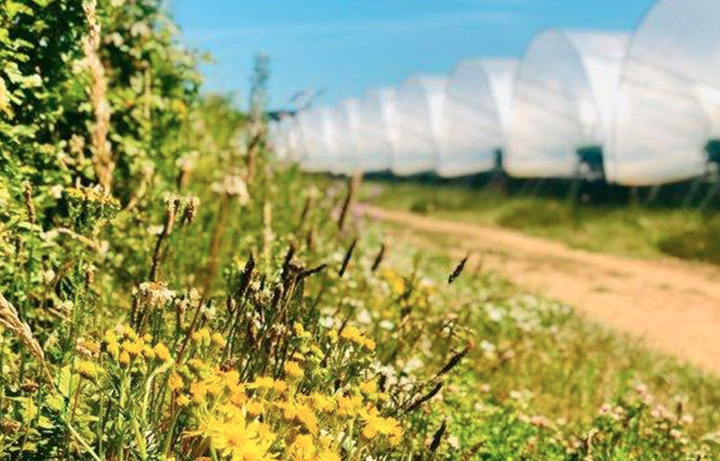 Encouraging Biodiversity
In an effort to support Britain's wildlife, we find ways to sustain species' habitats in and around our farms. We incorporate wild flowers into the fruit fields with our production systems, so they grow alongside our berries. This encourages bees and other insects to gather on our farms.
By incorporating more beetle banks and maintaining natural hedges, we provide additional areas for the UK's natural flora and fauna to thrive.
As well as working to protect these species, the species also benefit us by protecting our plants and helping to keep them clean and free of pests.
Hall Hunter Environment Video
Sustainability at Tuesley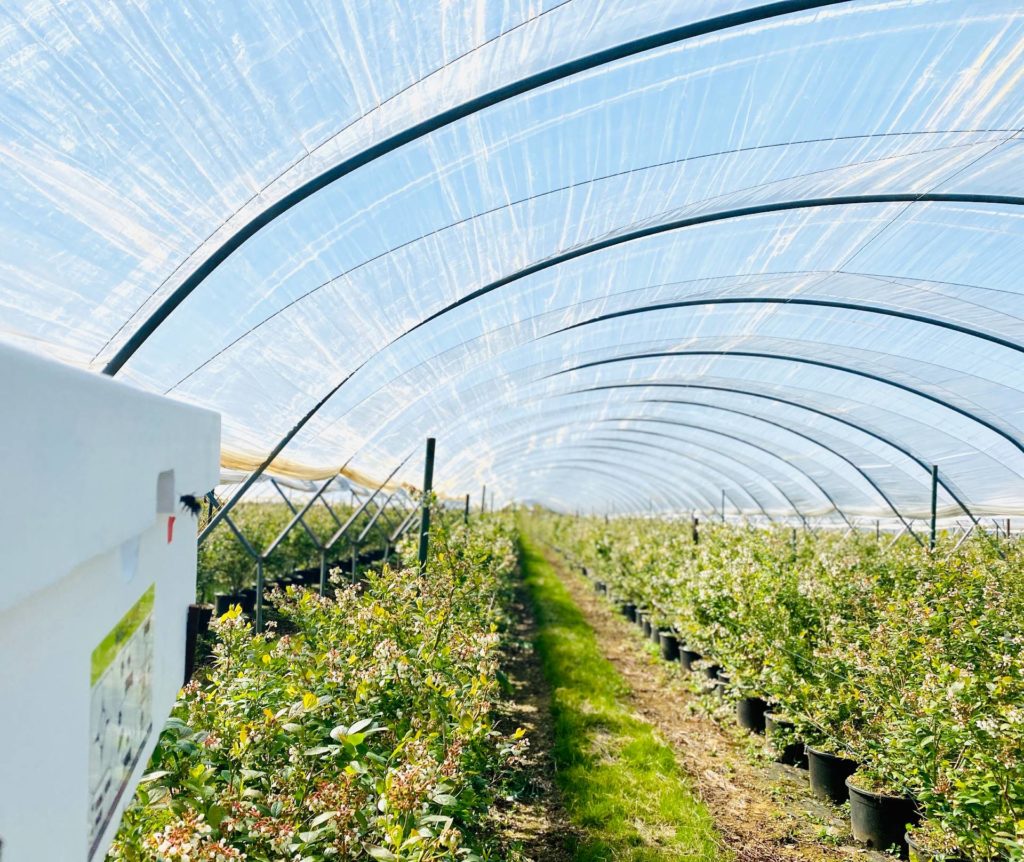 Our goal is to look at every part of our production and sales process and build a sustainable way forward to ensure we are farming long into the future to the benefit of our environments.
On taking ownership of the farm in 2002 it consisted of six fields farming arable and potato crops. The farm's biodiversity was limited. We have since broken the farm up into 26 fields, surrounding them with kilometres ofindigenous hedgerows, beetle banks and wind breaks. Before planting any berry crop we have significantly improved both the carbon footprint of the farm and the biodiversity. And of course with every season that passes the hedges and trees grow bigger and add as a further sink for CO2 and provide more habitats for birds, insects and invertebrate.
In 2020 we have added significantly to our biodiversity by sowing 2 hectares of wildflower margins and meadows.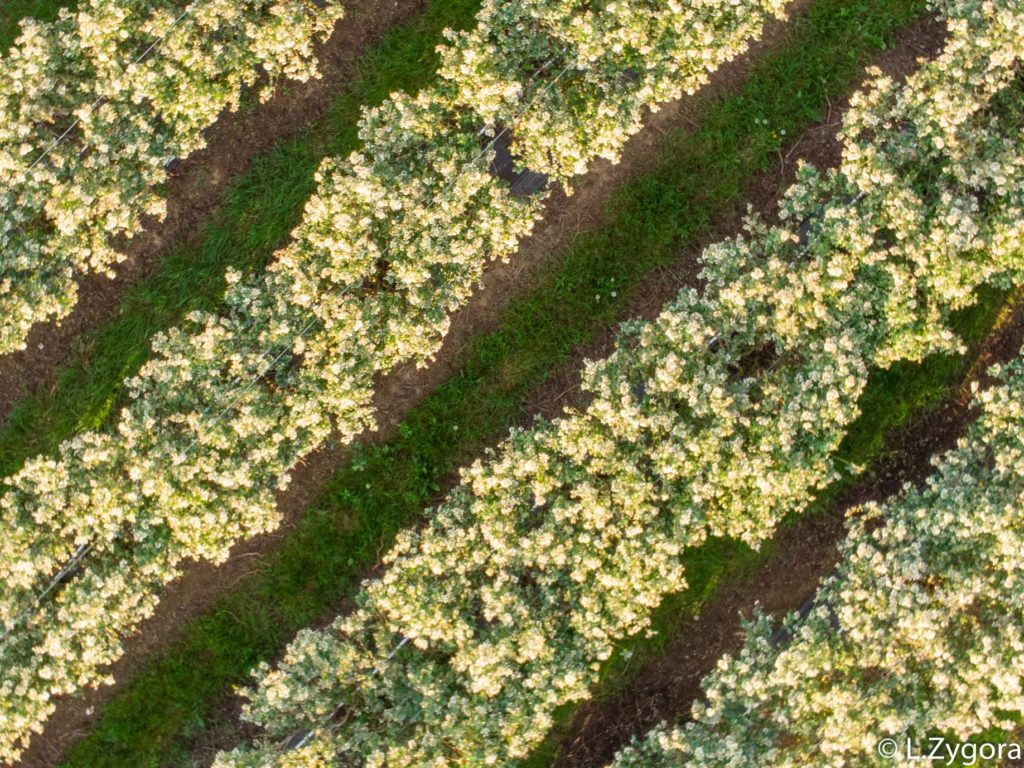 All the crops we grow at Tuesley have a grass ley at their foundation, either between our raspberry or blueberry crops or under our table tops. We are intercropping for the planet, this grass provides a solid base for carbon sink and capture in our soils.
We have 400,000 blueberry plants and every season these plants get bigger thus increasing their leaf area and carrying out more photosynthesis and therefore using more CO2. These plants are capturing CO2 in the photosynthesis process to make carbohydrates, oxygen and of course blueberries.
By having more crop under poly tunnels for a longer period we generate more photosynthesis with the same plant input thus consuming more CO2. By tunnelling more crop and for longer we can protect the berries more from the weather and increase our class 1% so more of the berries we grow reach the end customer versa going to waste.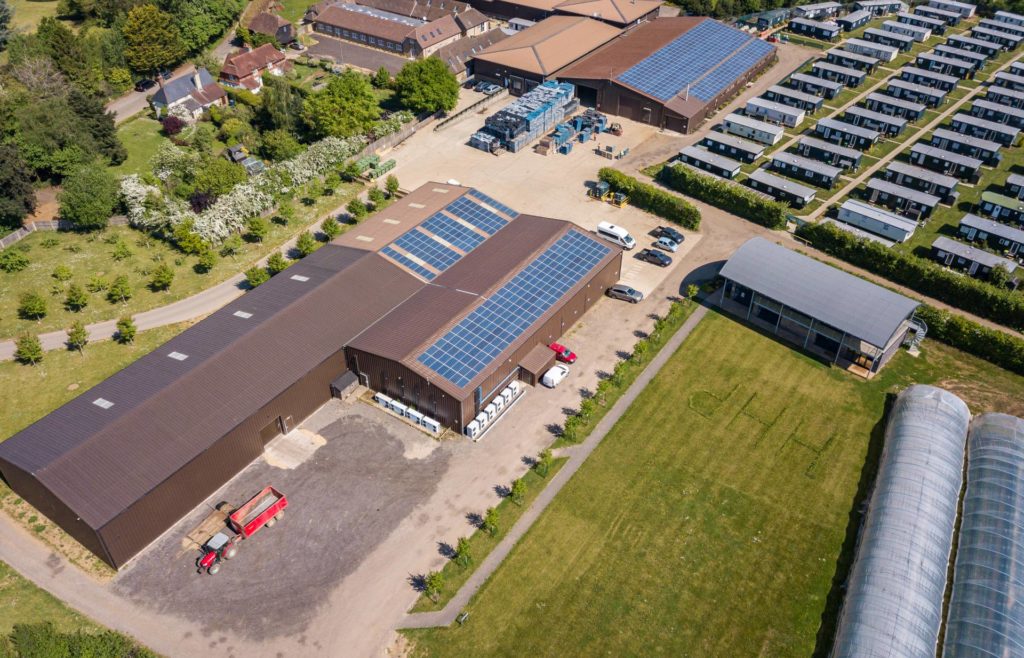 Annually the introduction of benefial insects increases. In the spring we now have 200 honey bee hives to ensure we get the best blueberry pollination we can. Each tunnel has its own bumble bee hive as well to compliment the work of the honey bees for when the weather is more inclement.
By having more crop under tunnels the efficacy of the beneficial insects goes up versa the traditional open field crop. The tunnel makes it harder for the insects to migrate away from the crop so we are able to build up sufficient numbers of the Beneficial's to properly control the harmful insects. Without tunnels this would not be possible.
All our berry crops are grown in a growing medium called Coir, the bi-product of coconut. This enables us to have the very best growing medium sourced sustainably so we can realise the highest yields. Achieving optimum yields on every square metre we farm is vital for Tuesley farm to have a sustainable future.
Once we have finished using the coir for production along with the redundant plant material it is shredded and used as a soil conditioner on local arable fields. Our future goal is to capitalise on the calorific value of the coir and turn it into a bio-fuel for us to burn in a biomass boiler and heat our future crops.
The business sources it's electricity from green sources and the carbon footprint is zero
We have over 10km of windbreaks, 10,000 trees all-consuming CO2
We have 8km of indigenous hedgerows getting bigger annually, all consuming more CO2
We have 50ac of woodland all-consuming CO2
Our Education Centre is air source heated and environmentally insulated
We have 1,500m2 of photovoltaics that generate electricity for our cold stores.
It's important not to group us with animal farming as this creates 80% of Carbon emissions in the production of the world foods.
In 2014 Tuesley farm won the Waitrose environmental sustainability arable and horticultural award.
Ultimately we are endeavouring to grow more plant base foods, locally in a Sustainable way aligned to when our customers want it.
"Open Farm Sunday is a wonderful initiative to get people out in the countryside and showcase British food and farming.We grow some of the world's best produce and I look forward to joining many others at Tuesley Farm to learn about and sample the fantastic fruit this family business is famed for."

Minister of the Cabinet Office Michael Gove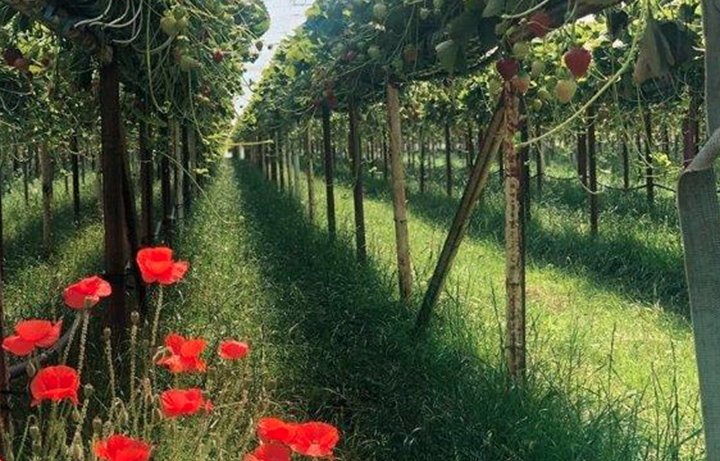 A Sustainable Legacy
One of our aims is to leave behind a legacy for future generations, in the form of sustainable and environmentally-friendly land. While we use the land to produce our berries, we seek to strike a solid balance between our needs and the needs of the planet. In everything we do, a small or non-existing footprint is our aim.
Sustainability is about moving forward in balance with the systems around us; where we achieve great things, yet only leave a positive legacy on the farms that we steward for the generations ahead.