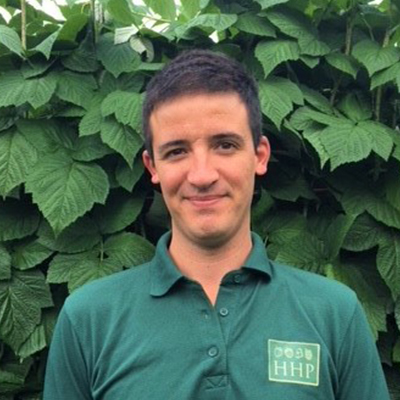 Age
34
Country Of Birth
Spain
Place Of Work
Sheeplands Farm
Favourite Berry
Sapphire Raspberry
I arrived in the UK in 2015. I'd been working in France for 3 years before coming here to be with my wife who was employed at the University of Reading.
Before joining Hall Hunter, I was working for a farm in Swallowfield (South Reading) growing herbs and Chinese cabbages. I had a similar role to what I do now at Sheeplands.
When I first arrived to UK, I couldn't find a job that involved agronomy.  So I worked for a year in Bracknell, where I was in telesales – a job that I hated!
When I joined the farm in Swallowfield I was told that the person I was replacing had left to join Hall Hunter. A few months later, I received a call from a recruiter offering me the opportunity to join Hall Hunter too! After two interviews, I got the job for next season.
At the beginning it was hard because I was the new guy in a very experienced team and I knew nothing about growing soft fruits! Luckily for me, Jaco and the team supported me and with their help, I learned a huge amount. Now, after a year, I feel fully integrated into the team and have made some really strong relationships across all HHP.
I was recently promoted to the role Production Enhancement Manager, which is a really exciting development for me. My new role focuses on improving yields, quality, pick speeds and overall economic efficiency across all crops, along with the development of new varieties and technologies to similarly drive forward crop performance. 
My ambition is to become Farm Manager (or a similar position). I've had the opportunity to learn plenty in the first year through courses, meetings and discussions with colleagues. Hopefully, I can continue learning and developing and reach my goal one day.
I've only worked at Sheeplands Farm so far, but I'm familiar with the other farms because I've visited them throughout the year.
Last year saw a lot of transition, with some people leaving and new people joining the management team. As the company grows, we realize that it's more important than ever to work as a team, support each other and strive to reach our mutual goals.